Skip to content

How To Insert A Tampon For Beginners
Navigating your period from puberty can be a little tricky. There are so many new things that you need to learn about, have knowledge of for the future and understand about your body. Feminine products are a huge part of a girl's period throughout her whole life. When it's that time in your life that you've decided to use tampons, you want to make sure that you know what you're doing. That first time inserting a tampon might feel a little scary or overwhelming. We're going to go over how to properly insert a tampon for beginners so you can feel confident and rock that tampon safely and correctly!The first thing you want to check for is if you have an applicator tampon or an applicator-free tampon. An applicator tampon comes with a plastic covering that goes into your vagina and allows you to push the tampon through it from the base, making insertion easy and clean. An applicator-free tampon does not come with this covering and can be inserted directly into your vagina with your fingers. A big question with both types of tampons is "How should a tampon feel the first time?" The answer? You shouldn't feel a tampon at all the first or 1,000th time you insert it! Here's a quick guide to help you insert your tampon for the first time..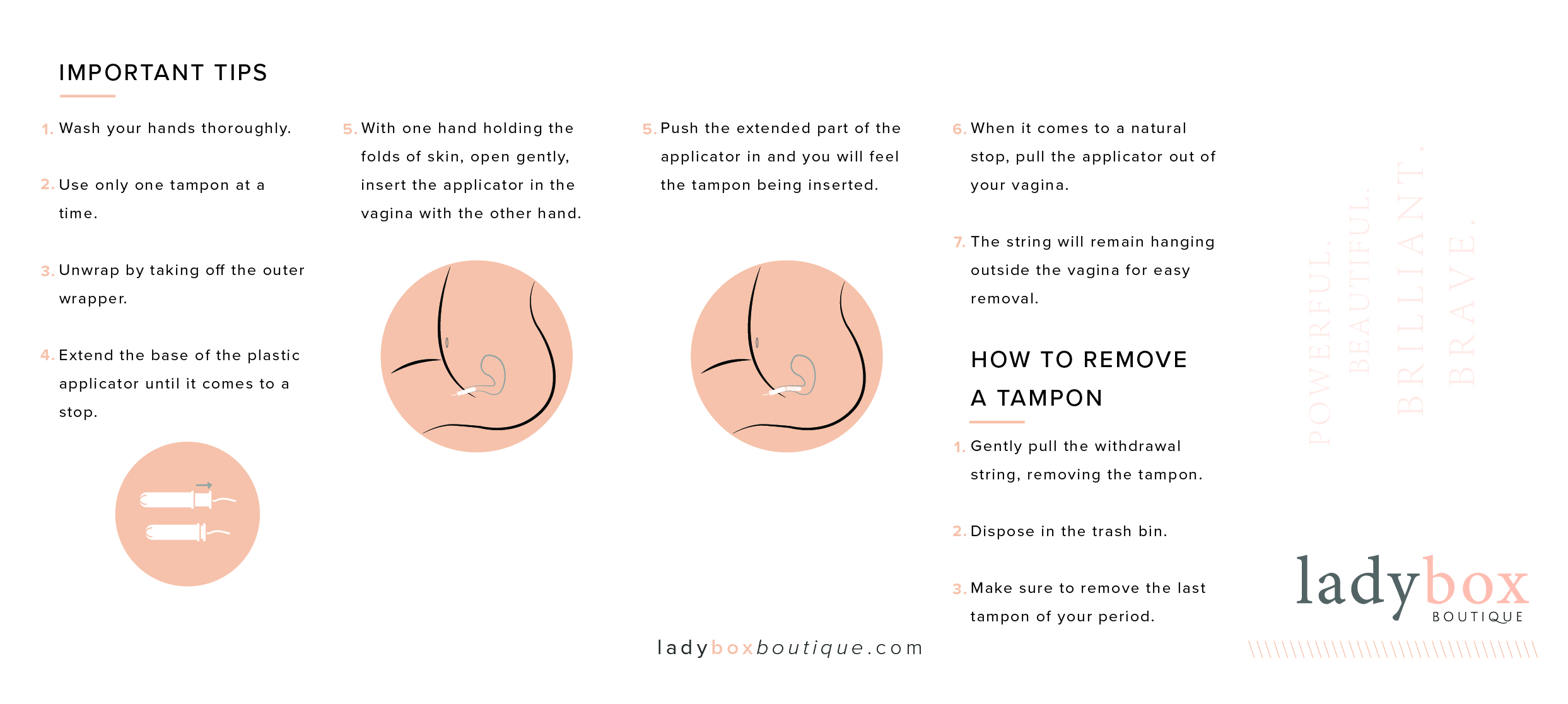 "Treat your skin with 100% organic skincare product from GemSkin. Be beautiful, be natural, be you."
To insert your tampon with an applicator
Sit on the toilet or put one foot up on the toilet or bathtub. This makes insertion much easier.Hold the tampon with one hand at the grip and insert into the vagina until the grip of the applicator is at the opening of the vagina.(You'll want to make sure you do this at the correct angle so you don't have any discomfort while inserting. This might take practice at first.)Push the lower tube of the applicator with one finger all the way up while you hold the grip of the applicator with the other hand until your finger pushing on the bottom meets your other hand and the lower tube is no longer visible.The only part of the tampon that should be out once it is inserted is the string. Check your string to make sure that it is hanging out and you will be able to pull it out when you change your tampon.If you feel any discomfort you may want to push the tampon in further to make sure it is in the proper position. Then you've done it!
To insert an applicator-free tampon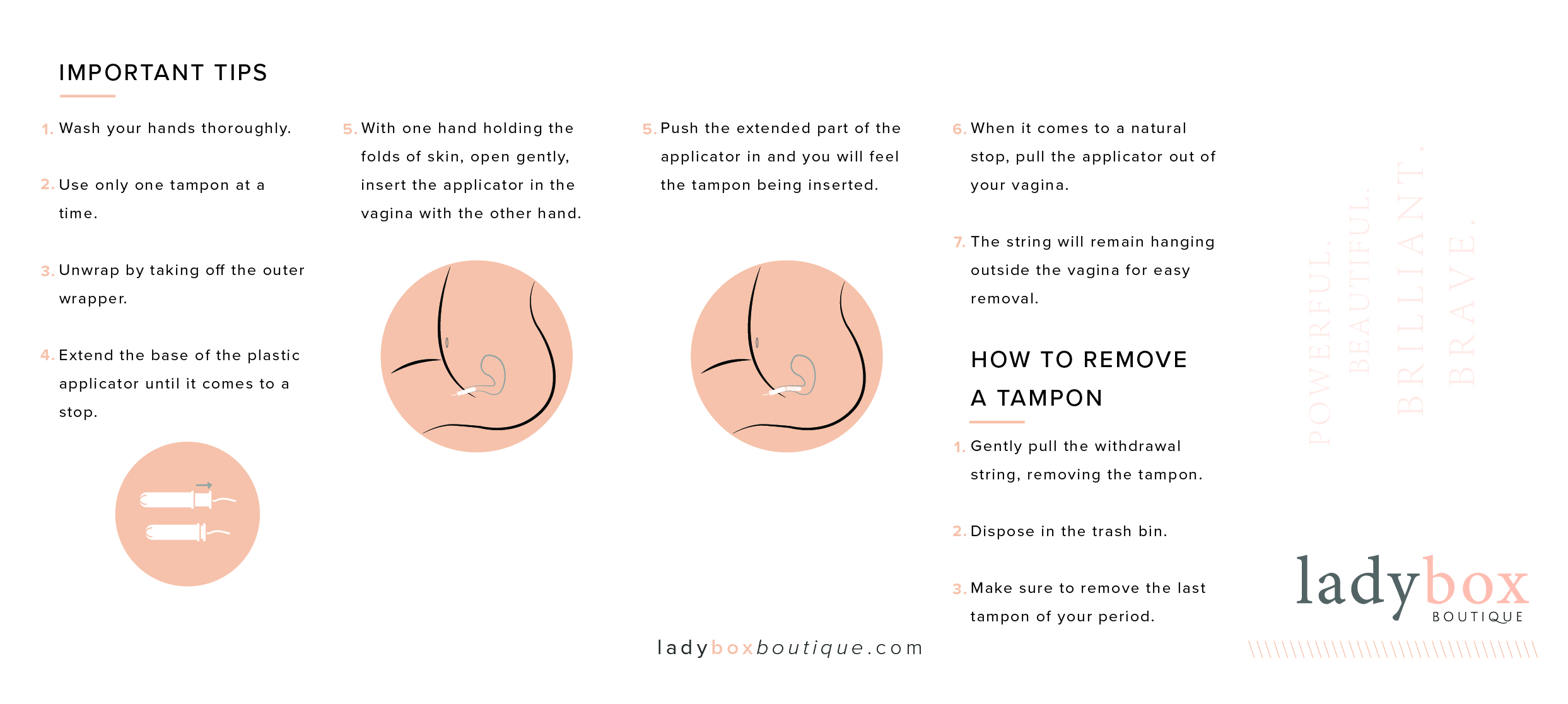 Sit on the toilet or put one foot up, just as you would with a tampon with an applicator.

Take your tampon with one hand and open the skin around your vagina with the other

Make sure that you have a firm grip on the lower part of your tampon

Gently separate the skin around the vagina and insert your tampon, being aware of the proper angle to avoid discomfort.

Push your tampon in the full length of your index finger. Doing this will ensure proper placement and help avoid any leaks.
Check to make sure your string is hanging out and you are good to go!

When inserting a tampon for the first time you might find that you need some practice to get the proper angle, make sure that it is inserted the right amount and have your string hanging the way it should. That's totally normal and honestly, for most women this is how tampons are at first. Keep trying and you'll get there. Once you find the right groove tampons will be a breeze!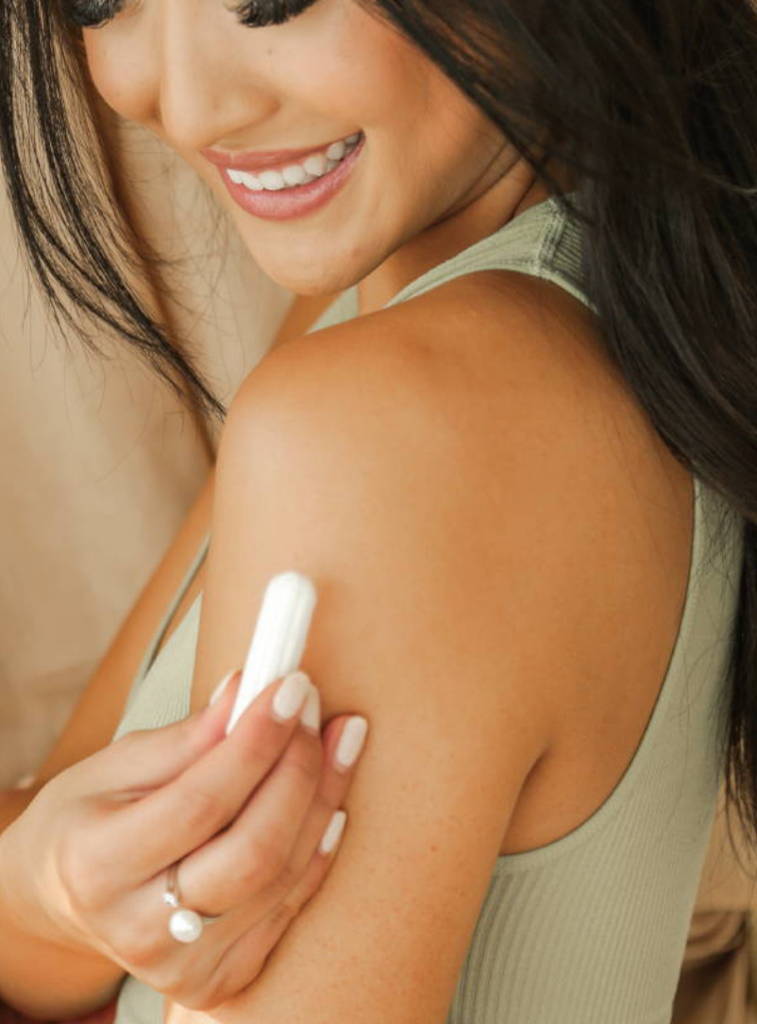 LadyBox Story
Why we started an organic feminine product company… As parents of 4 daughters who have all started their periods, we understood the importance of teaching them how to be healthy and how to care for their bodies during their periods. We did not feel like the ingredients that were in feminine care products were the highest quality even if they were "organic" so we knew we had to do something about it. We promised ourselves we would give not only our girls but every other woman and girl the safest and most effective products they can find. And that is when the manufacturing process began!
Sunday,Monday,Tuesday,Wednesday,Thursday,Friday,Saturday
January,February,March,April,May,June,July,August,September,October,November,December
Not enough items available. Only [max] left.
Add to Wishlist
Browse Wishlist
Remove Wishlist